Sign up for this free 9-part course to learn the fundamentals of setting up a versatile, flexible website for you and your business.

You'll learn:
What to look for in a web host, including a short checklist that will tell you if your budget web host is worth the money
The #1 web hosting mistake: don't fall for this trap!
The elements of a successful domain name and how to pick a winner
Where to sign up for your domain name: we share our favorite resource
The industry-standard website creation tools used by some of the most powerful sites on the web today: they're accessible to you, too, and we'll show you where to find them
How to give your site design polish: make your site look more professional with these 6 techniques
You'll receive three exclusive special reports with in-depth information on setting up your website the easy way. This course is 100% free, so sign up now and you'll get the first lesson today!


In case you're wondering, this course is easy to understand — even for complete beginners — and jargon free. You'll learn the basics and get a solid foundation you can build your website on. This is the same course that's a featured resource in Internet Marketing for Smart People, by Copyblogger.com. We can't wait to share it with you, so sign up above and let's get started!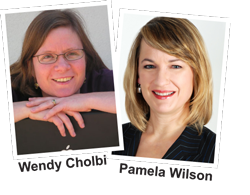 Best wishes for every success,


Wendy Cholbi and Pamela Wilson
Who are we?
Wendy is a web expert who translates tech jargon into plain English, empowering regular people to take control of their own websites. Pamela is an award-winning graphic designer and marketing consultant who teaches small business owners how to take their branding and marketing into their own hands. We joined forces to create this resource because we realized that technology and graphic design are two areas that frustrate many small business owners. End your website frustration: sign up above!