As soon as WordPress is installed, log in and check/update these five things:
1. In Settings > General
Add your site tagline. At first, you'll see the default "just another WordPress website," and of course your site is unique, hardly "just another" anything!
Set your time zone correctly, so the time stamps on posts appear the way you'd like them to.
Set the week to start on Sunday. This can be a personal preference, but if this is how your calendar works, it makes sense.
Verify the date/time format. The default is usually fine for US users. Be sure that "anyone can subscribe" is UNchecked — this is the default.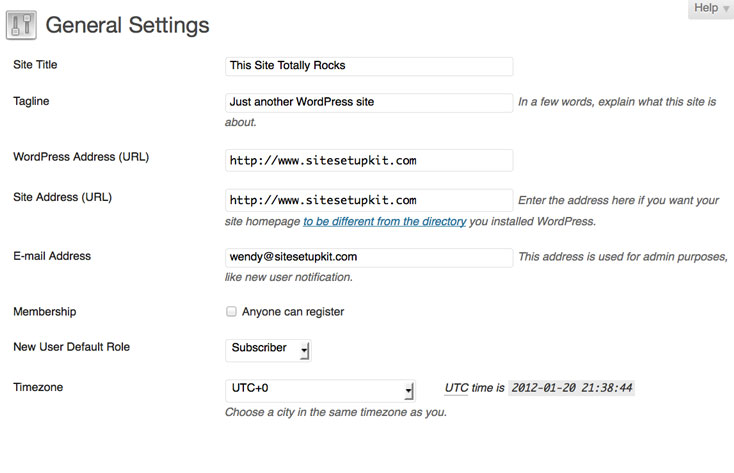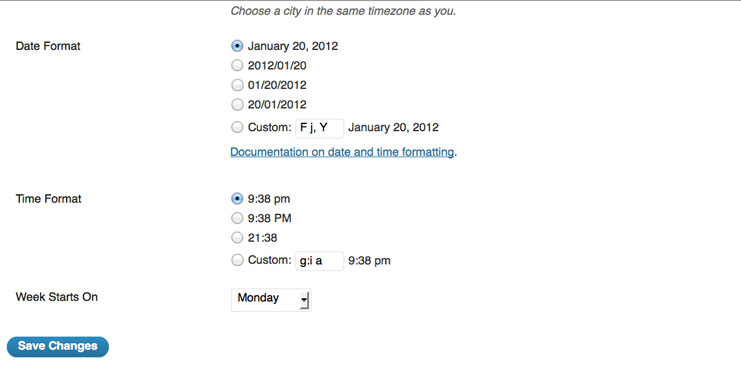 2. In Settings > Reading
Set the correct home page. If you're planning to create a blog, select "Front page displays your latest posts." If you're setting up a website with no blog, select "Front page displays a static page."
For blogs, make sure "For each article in a feed, show:" is set to "full text." More about creating and using pages in Posts and Pages: How to Master Each One.
3. In Settings > Media
Make sure the image path is specified. It should be wp-content/uploads but is often blank in new installs — this affects how some WordPress Backup plugins operate, as well as media uploads themselves.
Also, optionally uncheck the box for month-and-year based folders within uploads. Having so many folders can be a pain for sites that don't really use much media. They're useful for sites that upload new pictures/media multiple times per week.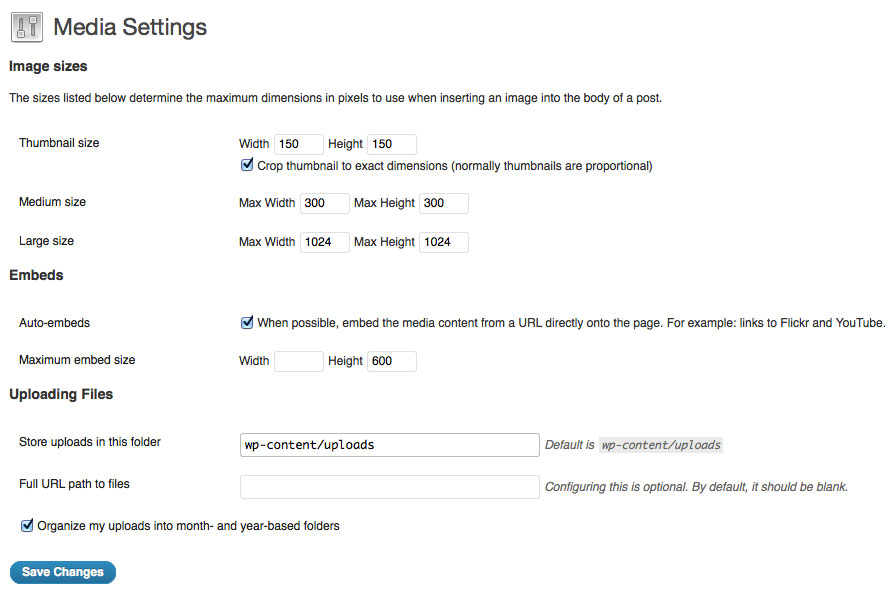 4. In Settings > Permalinks
Change from the default to ANYTHING with %postname% in it. The default is unfriendly to both humans AND search engines, and having permalinks made from the postnames lets you get search engine-friendly keywords into the page addresses. Also, this setting lets you edit the page address — called a "slug" — in the Post/Page editing screen. You'll learn more about search engine optimization in SEO Made Simple and creating pages and posts in Posts and Pages: How to Master Each One.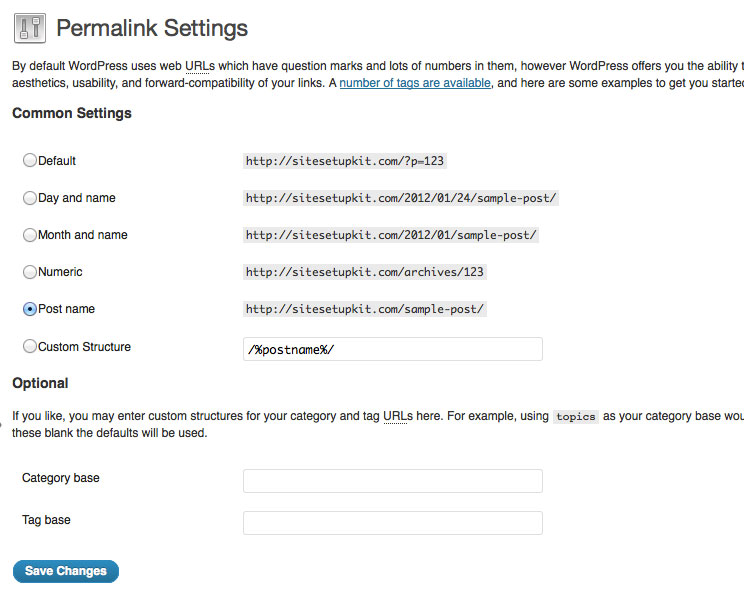 5. In Users > Your Profile
Fill in a few details, starting with your first and last name. We also strongly suggest changing your nickname. The default is to use your login username as a nickname, and the less-public your username is, the better.
Finally, choose the name you want your site viewers to see, in "Display name publicly as…" which gives you several choices based on your first name, last name, and nickname. This is the name to which your posts will be attributed.
There are some advanced user options provided by the Genesis theme framework — we'll discuss those in Module II.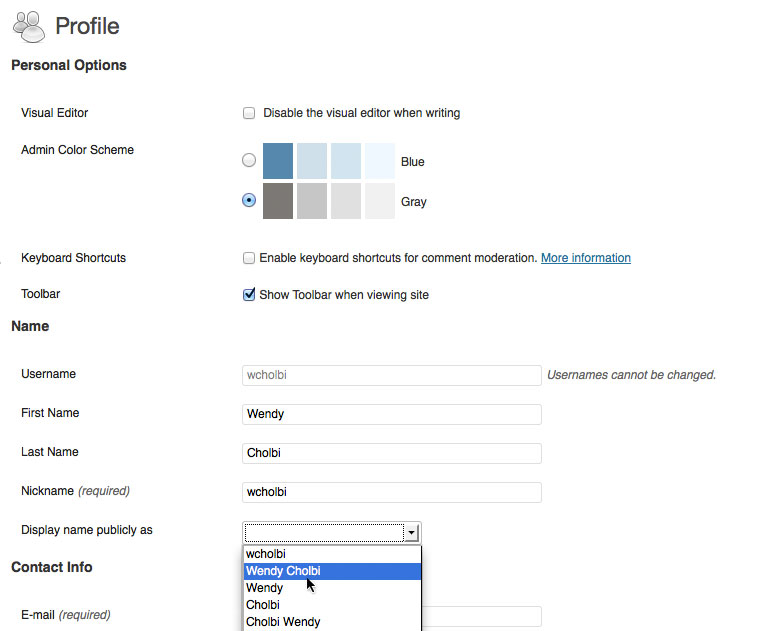 Once you've completed these steps, you can move on to installing your theme with Installing Genesis and Prose, and adding plugins with Plugin Power. 
Basic WordPress Safety: Keeping Your Site Secure from Hackers and Bad Guys

Website hackers, like car thieves, go after easy targets. If you are not practicing basic online security, your website is the equivalent of an unlocked car, with the keys just sitting there in the ignition.

The good news is that there are several security guidelines that will help you lock your doors. Even the best locks and car alarms can be disabled by determined, expert thieves — but having the electronic equivalent of extra locks installed will quite often deter casual hackers and automated scripts.

Here are three WordPress security best practices:

1. Choose a good password. The longer the better — use at least eight characters, with a mix of upper- and lowercase letters, numbers, and symbols. Definitely not "password" or "1234." Not your email address. Not your name or username. Come on, you can do better than that!

2. Do not use "admin" as your login username. WordPress allows you to select a username during installation, but many people choose the default "admin", which is the first username that all the bad guys try. Basically, anything is better than "admin."

If your username is already "admin," we suggest you change it, which can only be done by installing a plugin (more on this in Plugin Power).

3. Keep everything updated. Most important is to upgrade WordPress when a new version is released, but don't forget to upgrade your plugins when new versions become available. And finally, when a new version of Genesis or Prose is released, you'll want to upgrade your theme as well.
P.S.
Did you enjoy this peek inside Site Setup Kit? Get immediate access to 24 more lessons (and value-packed bonuses). Click below:

If you made it here from Twitter or a link from a friend, why not go ahead and pick up the whole series? This is lesson #8 in a free 9-step course on setting up your first website the easy and smart way. Click here to get the free course.